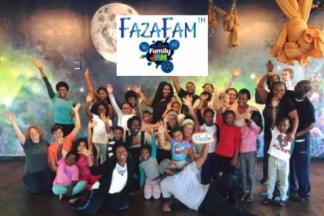 Get the March Madness out with FazaFam every Sunday in March!
FazaFam is fun for the WHOLE family! The best thing you can do for your family is spend time together and FazaFam is here to help you do just that!
Keep rocking and rolling with FazaFam! Jam to Salsa, Disco, Hip-Hop, Motown, and more. Games, moves, and great music make it easy to meet your goals to Dance & Bmore fit, fun, and free!
Cost:
Family of 2 $10 Per class
Family of 3 $12 Per class
Family of 4 $15 Per class
Family of 5 $18 Per class
Event Contact
Dance And Bmore
410-871-8322
Event Details
Repeats weekly Sunday -- until Sunday March 26, 2017 -- except Sunday March 12, 2017.
Prices: – Array
(443) 388-9191
Location
Add Event To Your Calendar