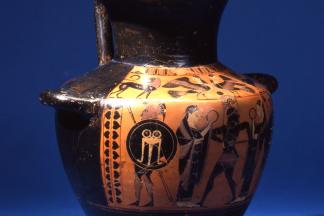 The Julio Fine Arts Gallery at Loyola University Maryland presents Fractured Histories: Ancient Greek Pottery from Haverford's Allen Collection. In 1989, Haverford College obtained a collection of Greek pottery from two alumni. Haverford student Jenna McKinley curated an exhibit of the pottery in 2014. She discovered that many of the twenty-five objects in the collection were obtained by the Allens from Robert Hecht, a Baltimore native and part of the Hecht Department Store family. Hecht was a well-known dealer of illicit antiquities and the main conduit for stolen pottery coming to the United States from Italy in the second half of the 20th century. Much about Greek lives, customs, rituals and beliefs is revealed in vase paintings. Stolen objects are not photographed and documented in situ, destroying needed context. Not only are issues regarding the rightful owners of looted works created, but issues of context as well.
Some of the collection's pottery dates all the way back to Greek Art's Geometric Period (1100-700 BCE). With the invention of the black-figure technique in this period, we begin to see single scenes of life painted on the pottery instead of bands of repeating patterns from earlier periods. Black slip, a watery clay, was used as "paint." Details in the figures were scratched into the slip. Other works in the collection are from the Archaic Period (700-480 BCE), when the red-figure technique was developed. This technique reversed figure-ground colors, and allowed for more movement and detail in the imagery. Pottery from Attica, the area surrounding Athens, reached its height in the Classical period (480-323 BCE). After c. 320 BCE, Attic red-figure pottery became obsolete.
Event Contact
Kim Banister
4106172799
Event Details
Repeats weekly Monday and Tuesday and Wednesday and Thursday and Friday -- until Sunday April 2, 2017.
Repeats weekly Sunday and Saturday -- until Sunday April 2, 2017.
Free Admission
Location
Add Event To Your Calendar