Free Fall Baltimore: Baker Artist Awards, "An Evening of Artistic Excellence"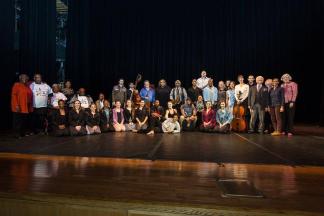 Contemporary Arts, Inc., in partnership with Free Fall Baltimore and the Greater Baltimore Cultural Alliance, presents "An Evening of Artistic Excellence", featuring the Baker Artist Award Winners in performance. Participating artists will perform solo and/or collaboratively.
A limited number of tickets will be available for reservation. The remaining seats will be released first come, first served, on the night of the event.
The FREE EVENT will be held on Thursday, October 13, 2016 from 7-9 PM at the Baltimore Museum of Art Free and open to the public/General Seating.
Featuring:
Carl Grubbs Quartet
Todd Marcus Quintet
Paul Rucker
Ellen Cherry
Shodekeh
Vincent Thomas
Michelle Nelson
Nicole Martinell
Naoko Maeshiba
Joyce Scott
Amanda Fair
Free Fall Baltimore is made possible by the Baltimore Office of Promotion & the Arts, an independent 501( C )3 non-profit organization, and the generous contributions of BGE, The Abell Foundation, American Trading & Production Corporation, The Henry and Ruth Blaustein Rosenberg Foundation, the Joseph and Harvey Meyerhoff Charitable Funds. Additional support for this event is provided by the Greater Baltimore Cultural Alliance, The Maryland Arts Council, The Eddie C & C. Sylvia Brown Family Fund, William G. Baker Memorial Fund, creators of thewww.BakerArtistAwards.org, the National Endowment for the Arts, and the Citizens of Baltimore County.
Event Contact
Barbara Grubbs
Event Details
Thursday, October 13, 2016, 7:00 PM – 9:00 PM
Free
Location
Add Event To Your Calendar