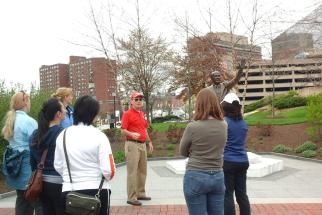 Monday, October 22, 2018, 10:30 AM – Friday, April 26, 2019, 2:30 PM
Repeats weekly Sunday and Monday and Tuesday and Wednesday and Thursday and Friday and Saturday -- until Sun Nov 04 2018.
Baltimore National Heritage Area Walking tours
Put your best foot forward and explore the best of Baltimore! Join the Heritage Area's Urban Rangers on a memorable walk through history featuring historic attractions, unique neighborhoods, and colorful stories that make Baltimore charming and unique. From the Inner Harbor to Fell's Point - we've got Baltimore covered!