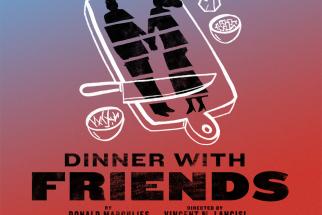 Tuesday, March 26, 2019, 7:30 PM – 10:00 PM
Repeats weekly Sunday and Tuesday and Wednesday and Thursday and Friday and Saturday -- until Sun Apr 14 2019.
Everyman Theatre
Like any culinary trend, relationships are destined to evolve over time—but can the recipe of friendship retain its zest if the key ingredients begin to change? A fabulous dinner at the home of food writers Gabe and Karen proves hard to swallow when Beth drops the bomb that husband Tom wants out of their 12-year marriage.