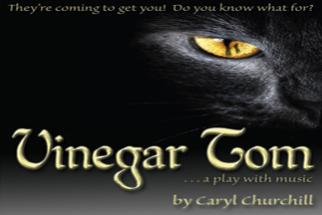 Friday, May 24, 2019, 8:00 PM – 10:00 PM
Repeats weekly Friday and Saturday -- until Sun Jun 02 2019.
Spotlighters Theatre
VINEGAR TOM
by Caryl Churchill
Directed by Erin Riley
with Assistant Director, Ruta Douglas Smith
Musical Score composed and performed by Parker Bailey Stevens
Lyrics by Caryl Churchill
May 10 - June 2, 2019
Fri & Sat at 8pm; Sun at 2pm
Witch Hunt: a community targets its weakest members as "other", then uses law and religion to persecute and destroy them.
It's no coincidence the victims are female identified. What was true in 1670 is eerily true in 2018.