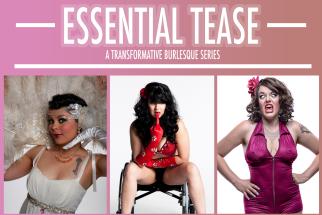 Sunday, January 27, 2019, 11:00 AM – Sunday, February 24, 2019, 2:00 PM
Repeats weekly Sunday -- until Sun Feb 10 2019.
Creative Alliance at The Patterson
What is burlesque? It is sensuality, storytelling, and so much more! It is about being your authentic self on stage and sharing your story with the world. Welcome to Essential Tease: A Transformative Burlesque Class Series! This series guides students through act creation from start to finish through internal and external work, all the while incorporating mindful techniques for both on and off the stage. Join us to tell your story, cultivate your creativity, and celebrate your sexy. It is open to ALL gender identities, abilities, ages, sexual preferences, races, and religions.