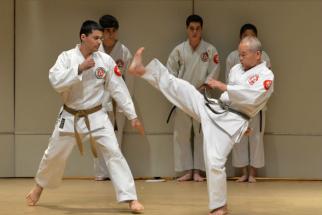 Monday, April 22, 2019, 11:00 AM – 4:00 PM
Repeats daily Monday and Tuesday and Wednesday and Thursday and Friday -- until Mon May 13 2019.
Asian Arts & Cultures Center, Asian Art Gallery ( CA 2037)
Free Admission
February 15-May 12. Mon-Sat 11-4pm
Close on Spring Break: March 17-24
Explore the diverse world of martial arts—such as kung fu, kobudo, tang soo do, and kendo—originating in China, Japan, and Korea. Regional martial arts specialists present their insights and expertise about training, fighting techniques, mental discipline, self-defense, sport and more. Learn about the histories of these traditions and their global diffusion.