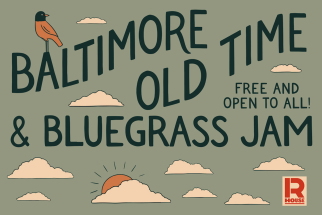 Tuesday, August 16, 2022, 7:00 PM – 10:00 PM
Repeats monthly on the 6 of September 1 times.
R. House
Free
The legendary Baltimore Old Time & Bluegrass jam is coming to R. House for two evenings of acoustic stringband music! All are welcome to play along in the jam regardless of skill level or instrument. Even if you don't play, you can come to soak in the scene, listen to the music and grab a bite to eat from one of the ten food stalls or a drink from R. Bar. It's THE happening spot in town for food and community.