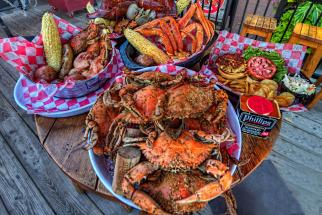 Sunday, June 12, 2022, 11:00 AM – Tuesday, July 5, 2022, 9:00 PM
Repeats weekly Sunday and Saturday -- until Mon Jun 27 2022.
Phillips Seafood Restaurant
Free
The sun is out, and so are we! After a long winter, Phillips Crab Deck is back for another season. The Phillips Crab Deck is perched on Baltimore's Inner Harbor in the heart of downtown and offers a crab-filled menu for outdoor dining and carryout. All summer long (weather permitting), we'll be serving seafood favorites from the Chesapeake Bay and beyond.