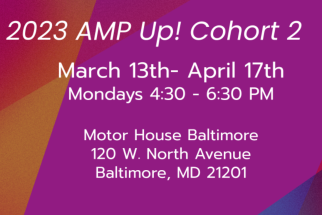 Monday, April 3, 2023, 4:30 PM – 6:30 PM
Repeats weekly Monday -- until Mon Apr 17 2023.
The Motor House
Free
AMP Up! encourages Baltimore Creatives 16-24 years old to create origional songs and new works. The creative process begins with writing workshops led by mentors. Professionals in the field give feedback and pro tips on the creative and song writing process. Spring mentors include artist producer, songwriter, DJ Von Vargas, singer, songwriter Sahffi, and music producer and television sound engineer Winston Philip.