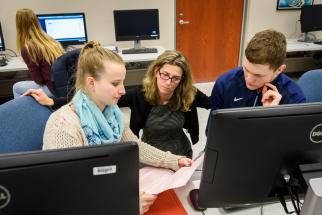 Free Admission
Accounting, economics and business administration students at McDaniel College prepare free income tax returns for low-to-moderate income taxpayers through the Volunteer Income Tax Assistance (VITA) program.
VITA is open to those who earn $54,000 or less annually. In most cases, returns can be filed electronically.
McDaniel has offered VITA for over 20 years. At each session, students help answer questions, as well as prepare and file tax returns. The students can receive internship credit for training hours and time spent with clients.