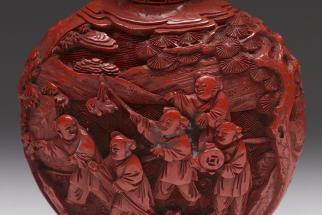 Friday, October 5, 2018, 10:00 AM – Friday, December 14, 2018, 5:00 PM
Repeats weekly Sunday and Wednesday and Thursday and Friday and Saturday -- until Sun Dec 09 2018.
The Walters Art Museum
Free Admission
Nearly 250 exquisite Chinese snuff bottles, delicately crafted from stone, glass, porcelain, ivory, lacquer, enamel, and precious metals, will be on view in the galleries of the Walters' palazzo-style court. Once personal adornments and handsome gifts, these extraordinary examples of technical and artistic virtuosity were made to hold snuff, a mixture of finely ground tobacco leaves, spices, and aromatic herbs.