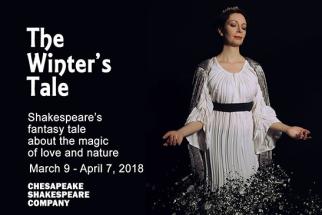 Friday, March 9, 2018, 8:00 PM – Saturday, April 7, 2018, 4:45 PM
Chesapeake Shakespeare Company
THE WINTER'S TALE
By William Shakespeare
Directed by Isabelle Anderson
A jealous king, a lost princess, a comic and generous old shepherd, and a wondrous statue unite in a compelling fable of obsession, redemption, and rebirth. This beguiling and magical story follows the travails and triumphs of a royal family torn apart by a false accusation of infidelity. A faraway springtime yields fresh chances for each to find love and joy.