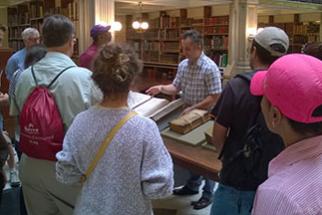 Saturday, July 13, 2019, 11:00 AM – 1:00 PM
Repeats weekly -- until Sat May 18 2019. Also includes Sat Jun 15 2019, Sat Jul 13 2019, Sat Aug 17 2019, Sat Sep 21 2019, Sat Oct 26 2019.
Enoch Pratt Free Library Central LIbrary
Follow in the footsteps of Baltimore's literary luminaries and discover the elegant brownstone mansions and majestic cultural institutions built by Baltimore's successful 19th-century merchants and industrialists. Learn how a neighborhood of scholars, struggling artists and authors, newspaperman, philanthropists and social reformers offered rich opportunities to discuss and debate ideas and open new literary avenues. All tours begin at the Enoch Pratt Free Library - Central Branch. Tickets are $10. Please note that advance registration is required; no walk-ups will be accepted.