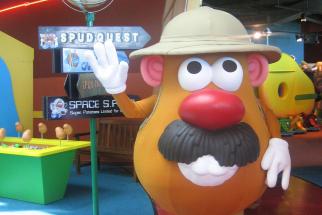 Tuesday, October 23, 2018, 10:00 AM – Wednesday, November 21, 2018, 3:00 PM
Repeats weekly Tuesday and Wednesday and Thursday and Friday -- until Wed Oct 31 2018.
Port Discovery Children's Museum
Have an out-of-this world silly adventure with MR. POTATO HEAD when you explore The Adventures of MR. POTATO HEAD® exhibit, at Port Discovery September 22, 2018 through January 21, 2019! Travel the globe and have fun learning on a jungle safari, an archeological dig, under the sea and outer space. Crawl through a jungle cave, dig for treasure, go scuba diving, and command a space station as you think about all you can be and do!