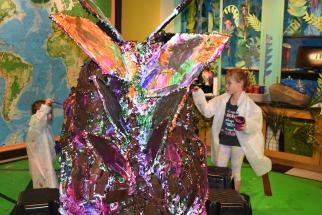 Thursday, October 4, 2018, 10:00 AM – Wednesday, January 23, 2019, 4:00 PM
Repeats daily Monday and Tuesday and Wednesday and Thursday and Friday -- until Tue Oct 30 2018.
Port Discovery Children's Museum
Mess Zone & Clay Play in the BGE Studio Workshop
Open daily during operating hours
Admission is free with museum entry, which is $15.95 for individuals two and up. Members and children under two enter free.
Visit the BGE Studio Workshop and spark your child's imagination through fun, hands-on art projects that you work on together! This summer's projects are designed to get you excited – and learning – as you explore art!