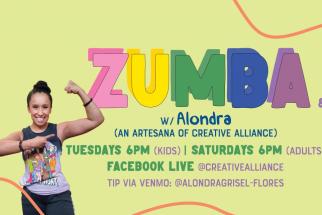 Tuesday, May 26, 2020, 2:00 PM – 3:00 PM
Repeats weekly Tuesday and Saturday -- until Wed May 27 2020.
Virtual Event!
Free
English
Zumba and exercises for kids, teens, and adults with Alondra! A unique way of exercising through dance and movement. Say goodbye to stress and have fun!
Aerobics: for a healthier heart
Strength exercises: for better resistance and tone
Stretchings: for better flexibility
ZUMBA: for fun!! Improve your fitness and burn calories
Tip your instructor via Venmo: @alondraGrisel-Flores
ESPANOL