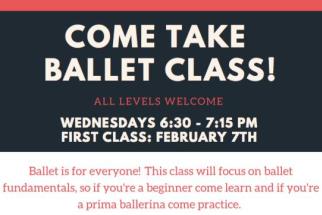 Free Admission
Ballet is for everyone! This class will focus on ballet fundamentals, so if you're a beginner come learn and if you're a prima ballerina come practice.
What to bring:
Soft ballet shoes are highly recommended but not required. If you do not have ballet shoes please bring a pair of socks to dance in. Additionally please wear comfortable clothes, leotards and tights are welcomed but not required.
**Did you know that dancing actually increases your cognitive ability?? Come to class and you can experience this for yourself!
About the teacher