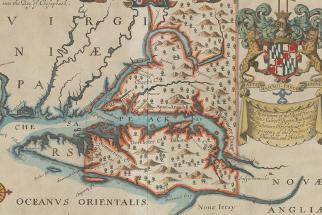 Wednesday, January 9, 2019, 9:00 AM – Sunday, June 16, 2019, 5:00 PM
Repeats weekly Tuesday and Wednesday and Thursday -- until Sun Mar 17 2019.
The George Peabody Library
Free Admission
From colonial impressions of the Chesapeake Bay to detailed city plans for guiding Baltimore's rapid expansion, this exhibition features over thirty of the most stunning and historically significant maps of Maryland from the collection of the late businessman, philanthropist, and Johns Hopkins alumnus Willard Hackerman. The maps are brought together with related rare books and prints, ephemera, and digital story maps to reveal the passion of a collector, the early mapping of Maryland, and the potential of combining historical maps with modern data to re-examine the past.