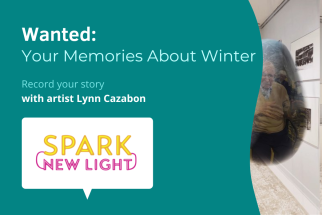 Sunday, September 25, 2022, 12:00 PM – 3:00 PM
Repeats weekly -- until Sun Sep 25 2022. Also includes Sat Sep 17 2022, Fri Sep 23 2022, Sun Sep 25 2022.
The Peale Center for Baltimore History and Architecture
Free
Free | In-person at the Peale
Sign-up up to record your memories!
Lynn Cazabon will be in the Peale gallery, ready to record your winter memories to be added into the project "Losing Winter."
Losing Winter is a site-specific, participatory artwork and archive of memories and emotions about winter, revealing the personal and cultural ties we have to the season and providing a window onto what we are collectively losing due to climate change impacts on weather patterns.