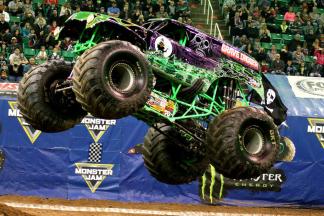 The widely popular #MoreMonsterJam tour is returning to Royal Farms Arena in Baltimore, MD on February 26-28 with the tantalizing points-paying endurance showdown, featuring more of what the Monster Jam® fans have been asking to see -#MoreMonsterJam!
Experience the energy and excitement with this exclusive showcase of endurance featuring the best lineup of Monster Jam trucks highlighted by more racing, more freestyle, more donuts, more wheelies and more action. Fans will once again be treated to competition vehicles such as the Monster Jam Speedsters and Monster Jam ATVs as they rip through the arenas during combative head-to-head racing action.
Headlining the tour this year will be eight more of Monster Jam's fiercest athletes, which will represent each Monster Jam race team of Monster Jam trucks, Monster Jam Speedsters, and Monster Jam ATV's, competing against one another to earn valuable points during each new event discipline. These athletes will be competing for a bid to the prestigious Monster Jam World Finals® held at Las Vegas' Sam Boyd Stadium on March 17-19.
Monster Jam Teams
Grave Digger®
Max-D®
ZombieSM
Monster Mutt® Dalmatian
El Toro Loco®
Scooby-DooTM
Monster Mutt® Rottweiler
New Earth AuthoritySM
Event Contact
Event Details
Friday, February 26, 2016, 7:30 PM – 10:00 PM
Saturday, February 27, 2016, 2:00 PM – 5:00 PM
Saturday, February 27, 2016, 7:30 PM – 10:00 PM
Sunday, February 28, 2016, 2:00 PM – 5:00 PM
Add Event To Your Calendar