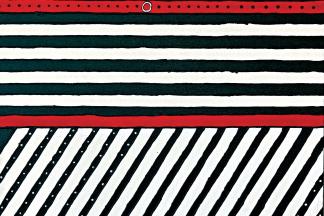 Desdemona/Othello
IN Series
Desdemona – June 7 & 8 and Othello – June 14 & 15
An epic theater experience in two evenings.
Audiences experience Toni Morrison's shattering and meditative play Desdemona, told with the music of the immortal Nina Simone, featuring world- renowned crossover soprano Claron McFadden. The work comes to life within a sculpture installation by renowned visual artist Maya Freelon.
Audiences then take in an audacious reimagining of Verdi and Shakespeare's Othello, with new musical "sea-interludes" composed and performed by Matthew Evan Taylor and in an all new English poetic treatment by Andrew Albin, featuring the searing images of British visual artist Keith Piper. Multifaceted artist Maribeth Diggle takes the role of Desdemona in both evenings.
COVID Policy:
All patrons must be fully vaccinated against COVID-19. Please bring a proof of vaccination (either the original vaccination card, or a photo of the card) along with a valid I.D.
All guests must wear masks while inside Theatre Project.
Seating will be limited.
If you have any COVID-associated symptoms the day of the show, please do not attend.
Showtimes:
Desdemona: Tuesday, June 7 @ 7:30pm
Desdemona: Wednesday, June 8 @ 7:30pm
Othello: Tuesday, June 14 @ 7:30pm
Othello: Wednesday, June 15 @ 7:30pm
Tickets:
General Admission: $30
Students: $20
Event Contact
410-752-8558
Event Details
Tuesday, June 7, 2022, 7:30 PM – 10:00 PM
Wednesday, June 8, 2022, 7:30 PM – 10:00 PM
Tuesday, June 14, 2022, 7:30 PM – 10:00 PM
Wednesday, June 15, 2022, 7:30 PM – 10:00 PM
410-752-8558
Location
Add Event To Your Calendar