Baltimore's Golden Age of Movie Theaters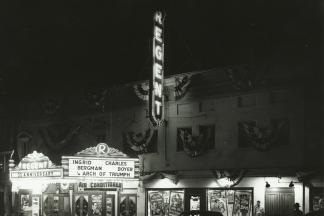 Reminisce through the golden age of Baltimore's movie theaters. Move through the magical decades of one of our latest exhibitions, Flickering Treasures: Rediscovering Baltimore's Forgotten Movie Theatres. Joe Tropea, MCHC's Curator of Films & Photographs, will reflect on what going to the movies was like all the way back to day one of Electric Park, through current day theater. Using contemporary and historical photographs, memories and narrative, Joe and his guests, Amy Davis, Baltimore Sun photographer and author of Flickering Treasures, Robert K. Headley, motion picture exhibition historian and author of Motion Picture Exhibition in Baltimore, Eric R. Cotton, founder of the Baltimore Filmmakers Collective, and activist Ralph Moore, will muse on how Baltimore's movie theaters celebrated how we lived and dreamed.
Presented as part of Doors Open Baltimore 2020, in collaboration with the Baltimore Architecture Foundation. This virtual program has been supported in part by PNC Bank.
Register: https://us02web.zoom.us/webinar/register/3015979551734/WN_j0ORT9nWTCWxa1...
By registering for this program, you will be automatically subscribed to the Maryland Center for History and Culture's e-newsletter. You can opt out at any time.
This virtual program is free and open to all audiences. Registration is required. After registering for the program, attendees will receive an automated confirmation email with connection instructions.
Event Contact
MCHC Events
410-685-3750
Event Details
Thursday, October 15, 2020, 4:00 PM – 5:00 PM
Free
Location
Add Event To Your Calendar