Kota Ezawa: National Anthem (in the BMA's Spring House)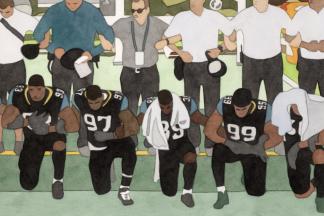 California-based artist Kota Ezawa's National Anthem (2018) is a meditation on patriotism and protest. The singlechannel animated video was inspired by the actions of quarterback Colin Kaepernick and other football players who took a knee, sat, raised fists, or locked arms during the national anthem to call attention to police brutality against unarmed black men and social injustice. Ezawa (b. 1969, Germany) creates work that explores and translates significant cultural events into simulations that question the authenticity of both our experiences and retold histories. For this work, he reproduced National Football League pregame footage from 2016 and 2017 by manually tracing sideline images from various football games and meticulously painting each drawing with watercolors to resemble the original image. Ezawa then rendered each scene three times, creating over 200 images which he reanimated through photography. He pairs the video with a somber, acoustic rendition of "The Star-Spangled Banner" performed by a cello quartet. The one minute, 38-second film culminates with cheers from fans.
Event Contact
Sarah Pedroni
4435731700
Event Details
Repeats weekly Sunday and Wednesday and Thursday and Friday and Saturday -- until Sunday November 29, 2020.
Free
Location
Add Event To Your Calendar