October-November Exhibitions and Opening Reception!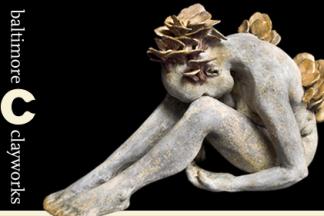 OCTOBER 4-NOVEMBER 15, 2014
OPENING RECEPTION: SATURDAY, OCTOBER 4, 6-8PM, FREE AND OPEN TO THE PUBLIC
LOOKING AT OURSELVES
Contemporary Figurative Ceramic Sculpture
Juried by Adrian Arleo
An exhibition exploring the resurgence of the human form in clay. View work that is extremely wide-ranging in aesthetics, content and approach to the material.
Featured artists: Jocelyn Braxton Armstrong (CT), Lisa Marie Barber (WI), Corinne Beardsley (MD), Jill Marleah Bell (NY), Rachel Ballard Bigley (NC), Angelique Brickner (SC), Christopher Corson (MD), Holly Cucio (MA), Christine Golden (AZ), Claudia Olds Goldie (MA), Aisha Harrison (WA), Cheryl Horning (NY), Marsha Karagheusian (KY), Yonatan Katzelnik (MA), Ahrong Kim (PA), Gunyoun Kim (OH), Karen Kuff-Demicco (NY), Katherine Lee (MD), Laura Marmash (IL), Zhanna Martin (PA), Suzanne Mauro (IN), Colleen McCall (NY), Mitch Messina (NY), Rebecca Morton (PA), Eileen O'Donnell (MD), Joseph Paushel (OH), Jenny Reed (KY), Kevin Rohde (MD), Phyllis Savage (CT), Joel Schroeder (UT), Meghan Sullivan (MA), Jessica Teckmeyer (IA), Travis Winters (NC) and Scott Ziegler (NC)
SOLO GALLERY: KATE BORCHERDING. Sculptures influenced by historic sections of Baltimore.
COMMUNITY ARTS GALLERY: GIVING BACK TO THE COMMUNITY An exhibition showcasing both the Cup-a-Thon and Buy a Cup, Give a Class initiatives.
PROJECT SPACE: THE FIGURE IN PROCESS. View drawings, mockettes and work in progress by Ana Maria Economou ,Trisha Kyner, and Kathy Lee –all of whom are figurative artists.
Event Contact
410 578 1919 x10
Event Details
Repeats weekly Sunday and Saturday -- until Saturday November 15, 2014.
Repeats weekly Monday and Tuesday and Wednesday and Thursday and Friday -- until Saturday November 15, 2014.
410 578 1919 x10
Free Admission
Location
Add Event To Your Calendar