We Shall Overcome: An Online Concert Series with Lura Johnson, pianist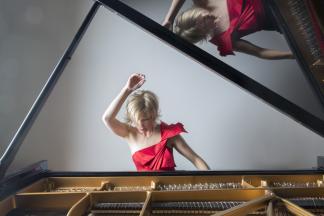 For many of us in the US, life has changed dramatically in the last several days. We suddenly find ourselves in scary, uncertain times. We're worried. Now is the time to turn to one another for solace; many of us also turn to art. I have friends who are devoting themselves to listening projects, reading poetry, or even creating their own art at home. We do this not just to pass the worried hours until we can go back to our normal lives.... we do this because art and creativity provide comfort, an outlet, a way to express ourselves, a way to rise up and think about something besides fear.
I am offering a concert live-streamed on Facebook every Wednesday night at 8 pm EST for the near future, from my home studio in Baltimore. I'm not sure when my public concert life will go back to normal; but until it does, I'd like to be with you, playing music that I love and hopefully bringing you solace, pleasure, serenity, and inspiration.
Join me. Let's connect, from afar.
With love and best wishes for everyone's health and safety,
Lura
Event Contact
Lura Johnson
4436761491
Event Details
Wednesday, April 8, 2020, 8:00 PM – 8:30 PM
Repeats weekly Wednesday -- until Saturday May 2, 2020.
Free
Location
Add Event To Your Calendar