David London's Weekend of Magic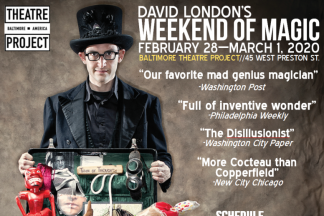 Magician David London combines magic with storytelling, comedy, puppetry, philosophy, surrealism, and that which cannot be defined, to create original shows of magic unlike anything you have experienced before.
The Weekend of Magic at Baltimore Theatre Project will feature a two performance of David's Magic Outside The Box Cabaret Show, as well as Houdini's Trunk, a Magic & Surrealism Workshop and a FREE performance of his family show, The Adventure to the Imagi Nation.
SCHEDULE OF EVENTS:
Friday, February 28, 2020 @ 8:00PM
Saturday, February 29, 2020 @ 8:00PM
Magic Outside The Box
Join David London on a journey to someplace else. Featuring excerpts from his previous theatrical productions, this 75 minute show is packed full of laughs, mystery, and the unexpected! Recommended for ages 15+. 75 minutes. Tickets: $25 General Admission; $15 for Students, artists, seniors and wizards,; $40 VIP First Three Row Seating; $60 VIP Seating + Close-Up Magic Show at 7:15pm!
Saturday, February 29 @ 11:00AM - FREE!!
The Adventure to the Imagi Nation
The Adventure to the Imagi Nation utilizes magic, storytelling, and interactive play to take children of all ages on a journey to the Imagi Nation a far away place found within each one of us. Meet the mayor, Take a ride in a hot air balloon, behold the phantasmata flower, and that's just the first 10 minutes! Recommended for ages 5-11. Fun for everyone! 25 Minutes FREE!!
Saturday, February 29 @ 2:00PM
Houdini's Trunk
In this living history performance, magician and storyteller David London will himself transform into Houdini as he tells the first-person account of the incredible but true story of one of the greatest magicians who has ever lived. Recommended for ages 10+. 60 minutes. $10.
Sunday, March 1 @ 1:00PM
Magic & Surrealism Workshop
In David's mind, Magic and Magic Tricks, are two very different things. This workshop will explore both. Through a crash course in illusion, we will examine how we interact with reality. We will also discuss the intersection of magic and surrealism as well as play several surrealist games. You will go home with many more questions than you came in with, as well as several tricks and surrealist games to amuse, amaze and engage your friends and family. Recommended for ages 12+. 120 minutes. $20.
About David London: David discovered that he was a magician at the age of seven, and has since spent over 20 years trying to figure out just what that means. He has created five original theatrical magic productions, including Cerebral Sorcery, ...Art of Dreams, and The Creative Spirit Seance, and has authored eight manuscripts related to magic and illusion, including Daydreams, Borderland State, and Imagining the Imagination. He regularly performs his unique style of magic at theaters, museums, galleries, festivals, and private events, and has presented his shows, workshops and lectures throughout the United States.
For more information on David and his magic, please visit www.DavidLondonMagic.com
Event Contact
David London
Event Details
Friday, February 28, 2020, 8:00 PM – 9:30 PM
Saturday, February 29, 2020, 8:00 PM – 9:30 PM
Saturday, February 29, 2020, 11:00 AM – 11:30 AM
Saturday, February 29, 2020, 2:00 PM – 3:00 PM
Sunday, March 1, 2020, 1:00 PM – 3:00 PM
1
Full price:
$25/ $40/ $60
Half price:
12.50/ $20/ $30
Offer good
02/13/20

to

03/01/20
Redemption Instructions
Discount for GA & VIP Tickets to Magic Outside The Box on 2/28 & 2/29.
Use promo code "CULTUREFLY" at https://baltimorewom2020.bpt.me/
Location
Add Event To Your Calendar