The Shadow Box - Spotlighters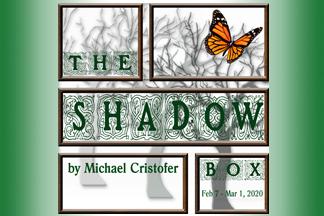 The Shadow Box
by Michael Cristofer
Directed by Sharon Weaver, with Stage Manager, Paul Saar
Feb 7 - Mar 1, 2020
​Fri & Sat at 8pm; Sun at 2pm ​
Joe, Brian, and Felicity come from different walks of life, different parts of the country, and are in different stages of accepting the things they have in common: they are all dying of cancer, and they are all living out their final days, in company with friends and family, in homey hospice cottages on the green and pleasant grounds of a large California hospital.
They are observed, studied, and counseled by an invisible Interviewer as they talk candidly about their emotional and physical struggles, and face interpersonal challenges: Joe's wife Maggie, in denial about her husband's impending death, refuses to go inside his cottage; artistic Brian, busy trying to write and paint enough for twelve lifetimes, must mediate between his ex-wife Beverly and his boyfriend Mark; and Felicity, confused and in pain, refuses to die until she gets a visit from her daughter Claire -- a daughter who has been dead for years. Michael Cristofer's sensitive, emotionally devastating, ground-breaking play exploring the end of life experience won both a Tony Award for Best Play and a Pulitzer Prize for Drama in 1977.
Opening Night Reception: Fri, Feb 7, 2020
Join the cast & director following the performance
Ten Spot Thursday: Thur, Feb 13, 2020
All Tickets just $10.00
​Talk Back w/ Cast & Director: Sun, Feb 23, 2020
Immediately following performance
Event Contact
Fuzz Roark
4107521225
Event Details
Friday, February 21, 2020, 8:00 PM – 10:30 PM
Repeats weekly Friday and Saturday -- until Sunday March 1, 2020.
Sunday, February 23, 2020, 2:00 PM – 4:30 PM
Repeats weekly Sunday -- until Sunday March 1, 2020.
4107521225
1
Offer good
02/06/20

to

03/01/20
Redemption Instructions
ONLINE ORDERS ONLY
- no telephone, email or Box Office Orders
Go to - www.spotlighters.org/shadowbox - click on Ticket Icon
Use Discount Code: Cabin
Limited to 4 tickets per order, and 16 tickets per performance
Discount includes a $3 processing fee.
Location
Add Event To Your Calendar