Baltimore Improv Group improv comedy shows!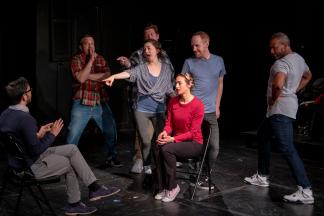 Come to ​Baltimore Improv Group (BIG) for free comedy shows every night of the week.
The BIG Theater opened in October 2017 in Station North Arts & Entertainment District in the core of Baltimore City.
Visit a nonprofit theater offering you and your friends 3,000 square feet of space for live free comedy shows; classes and workshops for adults, kids and teens; a free-to-use public podcast studio; and more.
Why?
Comedy should be accessible to everyone.
Visit our show calendar at bigimprov.org for details.
Event Contact
Brian Young
Event Details
Thursday, February 20, 2020, 7:00 PM – 8:30 PM
Repeats daily -- until Wednesday December 30, 2020 -- except Thursday November 26, 2020, Friday December 25, 2020.
888-745-8393
Free Admission
Location
Add Event To Your Calendar
What Others Are Saying
"It was perfect in every way. The feedback this morning was over the top enthusiasm and praise for your crew. Thanks for accommodating our needs so well." Beth Frederick Johns Hopkins School of Public Health Advance Family Planning, Bill and Melinda Gates Institute for Population and Reporductive Health
"I have lived in the world of professional and leadership development for 20 years. Practicing Improv myself, and bringing the principles and exercises to other learning professionals, has been a game changer. The applications for the classroom, for one-on-one coaching, creating teamwork, enhancing communication, self awareness, etc are tremendous. " Dennis DiMaggio, certified professional development coach, trainer and change management facilitator.
"We had a GREAT time at the performance. Your performers exceeded our expectations and had the entire audience laughing for two hours straight. Thank you so much for your cooperation during the planning phase, your quick responses and constant contact made the planning and execution of the event easy and smooth. Thanks again for a great performance!" University of Maryland Baltimore U of MD Wellness Hub Show
"Plan B was great! The show was very entertaining. Our group ate, laughed and had a good time. I would certainly recommend BIG to others. Thanks for your very professional service." Nikita Lemon, Baltimore County Community College
"It was perfect. BIG did a fantastic job of choosing the exercises for the evening and of reacting/adapting to the dynamics of our group. My team raved about it, and the people who overheard them in our office are thinking of incorporating it into their upcoming meetings."Ana Kornegay, Brown-Forman Co.
"BIG, thanks again for being such a fun and effective trainer –a unique and rewarding experience for our participants! Looking forward to more work together." Jim Dickinson, Business Volunteers Unlimited Maryland