Ellen Lesperance: Velvet Fist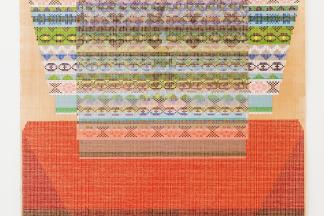 Based on the attire of women activists, warriors, and cultural figures, Ellen Lesperance creates gouache paintings rendered in the universal shorthand of knitting patterns. This exhibition features seven works from her ongoing Greenham Common Women's Peace Camp series. The works in the series are inspired by protest garments made and worn by separatist feminists while demonstrating against U.S. nuclear weapons storage in Berkshire, England, from 1981 to 2000. For Lesperance's ongoing participatory project, Congratulations and Celebrations, anyone who wishes to, may borrow the artist's hand-knit sweater featuring a labrys battle axe—a symbol of feminist and lesbian strength—to wear while performing an act of courage. For a chance to be selected, register here.
Curated by Associate Curator of Contemporary Art Cecilia Wichmann
This exhibition is supported by the Estate of Margaret Hammond Cooke.
Event Contact
Sarah Pedroni
4435731700
Event Details
Wednesday, February 19, 2020, 10:00 AM – 5:00 PM
Repeats weekly Sunday and Wednesday and Thursday and Friday and Saturday -- until Sunday June 28, 2020.
Free Admission
Location
Add Event To Your Calendar