The Museum of the Old Colony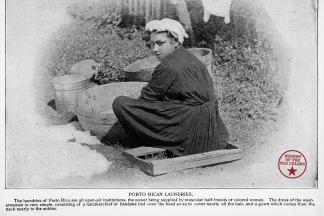 UMBC's Center for Art, Design and Visual Culture presents The Museum of the Old Colony, an art installation by Pablo Delano, from January 30 through March 14. An Opening Reception will be held on Thursday, January 30, from 5 to 7 p.m., and the gallery will open for regular viewing hours on Friday, January 31.
For the past twenty years, the artist Pablo Delano, who was born and raised in Puerto Rico, has collected artifacts related to the history of his homeland. After amassing a substantial archive, he began to think about the ways he could, as a visual artist, employ these materials to explore this history. Delano creates dynamic, site-specific art installations that examine the complex and fraught history of U.S. colonialism, paternalism, and exploitation in Puerto Rico. They challenge, as well, the ways traditional museums of history and anthropology tell this story.
The title of The Museum of the Old Colony is a play on words, referencing both the island's political status and, Old Colony, a popular local soft drink. Spanning more than a century of objects and images, Delano's installation illuminates the oppression of the past while alluding to the stark reality of Puerto Rico in the present — an unincorporated territory of the United States where U.S. citizens continue to be exploited, ignored, and underrepresented.
Event Contact
Symmes Gardner
410-455-3188
Event Details
Thursday, January 30, 2020, 5:00 PM – 7:00 PM
Tuesday, February 18, 2020, 10:00 AM – 5:00 PM
Repeats weekly Tuesday and Wednesday and Thursday and Friday and Saturday -- until Saturday March 14, 2020.
Free Admission
Location
Add Event To Your Calendar