Family Night: Dinner & Movie: The Emperor's New Groove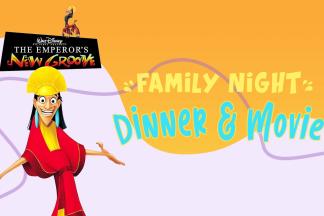 Attention Baltimore Families! Creative Alliance is hosting a family friendly dinner + movie night! We will be featuring the hysterical Disney classic, The Emperor's New Groove!
Arrogant young Emperor Kuzco is transformed into a llama by his power-hungry advisor - the devious diva Yzma. Stranded in the jungle, Kuzco's only chance to get back home and reclaim the high life rests with a good-hearted farmer named Pacha. Together, they must return Kuzco to the throne before Yzma tracks them down and finishes him off.
Pizza, Pasta, & Salad provided by Matthew's Pizza - Baltimore's First (and yummiest!) Pizzeria established in 1943!
Floor mats for the kids, soft seating, and tables will be available under an illuminated canopy of Edison bulbs in the theater for the evening. Come early for pizza, stay for the laughs!
*Creative Alliance is accessible; please contact any of the organizers to request accommodations.
*All are welcome, no matter your identity, ability, or faith background.
THU FEB 20 | 5:30PM | $10, $7 MEMBERS (+$3 over the phone, online, or at the door) | Kids under 5 FREE! Members under 12 FREE!
Event Contact
Creative Alliance
4102761651
Event Details
Thursday, February 20, 2020, 5:30 PM – 8:00 PM
4102761651
Location
Add Event To Your Calendar