Punch by Numbers w/ Elisa Wells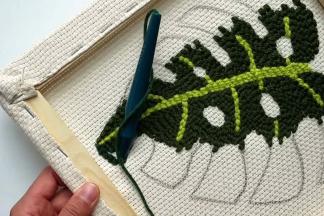 Punch Needle is an easy to learn, versatile embroidery technique that uses a pen-like tool with a hollow threaded needle tip transform looped fibers into lovely piled designs. You can use a wide range of materials as a base cloth, various threads, yarn, or fibers for punching. There are many design options. You can create small, ornamental motifs to large-scale wall or floor landscapes. There's a punch needle piece for everyone!
This form of embroidery can be linked to many cultures: the ancient Egyptians, the Russian Orthodox church, and the Japanese who used the bunka technique. During this workshop, you will learn to use an Oxford punch needle to create a colorful tufted design. In this series, birds will be the subject of each pattern and students will have time during the workshop to work on their chosen design with guidance from the instructor using a variety of "Paint by Numbers" style patterns.
Supplies will be provided.
Thursdays FEB 20 - MAR 5 | 6-8PM | $50, $45 MEMBERS (Price is for all three classes)
Event Contact
Creative Alliance
4102761651
Event Details
Thursday, February 27, 2020, 6:00 PM – 8:00 PM
Repeats weekly Thursday -- until Thursday March 5, 2020.
4102761651
Location
Add Event To Your Calendar