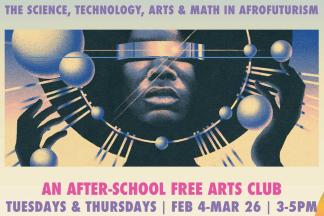 Registrations are full. However, you can still register and be placed on the wait list should capacity increase or if any cancellations occur.
In this FREE eight-week art class students are encouraged to celebrate their unique attributes by exploring concepts of science fiction, culture, fantasy, math, art, and science. Youth will explore how to tap into their own super strength and use elements of science, technology, and literature to think about ways to make our world a better place.
Tuesdays & Thursdays FEB 4 - MAR 26 | 3-5PM | FREE! Registration required
To register, Please click the link on the event website and fill out a registration form
For any questions please contact Education Coordinator, Rachel Rush at [email protected]
Event Contact
Creative Alliance
4102761651
Event Details
Thursday, February 27, 2020, 3:00 PM – 5:00 PM
Repeats weekly Tuesday and Thursday -- until Thursday March 26, 2020.
4102761651
Free Admission
Location
Add Event To Your Calendar