Baltimore Honky Tonk & Two-Stepping Night: Feat. Josie Toney and Her Honky Tonk Heroes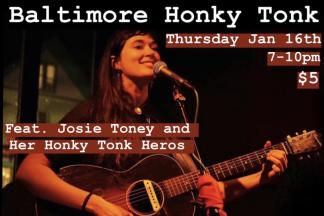 Have you ever said to yourself one these things?
"I wish Baltimore had more classic country music happening."
"I wish I could go out dancing and learn how to two-step"
"I wish I could hang out at a bar, listen to country music, listen to local musicians, support a local brewery, and drink beer all at the same time!"
"I need to dance with my friends and hang out!"
If you said yes to any of those, the Baltimore Honky-Tonk & Two-Stepping is the place you'll want to be on Thursday the 16th of January! Come on out and let's grow a fun classic country music scene here in Baltimore together. No prior experience needed!
Coming all the way day from Boston, MA for Baltimore Honky Tonk is Josie Toney & Her Honky Tonk Heros. They'll be joined by the legendarily groovy and stylish EJ Thompson on drums!
ABOUT JOISE:
" Josie Toney is one of the compelling, wonderful new voices bringing traditional music into today's musical fabric. In performance, her lifetime and love of playing will draw you in immediately, with fearless, heartfelt singing and powerful fiddling (sometimes both at the same time, something I really love). Josie's musical energy and chops are nothing short of uplifting, a joy to hear!"
— Bruce Molsky
"Have you heard Josie Toney? She's killing it, playing in a variety of styles at an incredibly high level on fiddle, and singing incredibly great country, bluegrass, and old time songs. She's an amazing musician with incredible ears who is picking up on subtleties and differences in styles that never occurred to me, and I've been doing this for a long time. Check her out..."
— Matt Glaser, Artistic Director of the American Roots Music Program at Berklee
7:00pm Music starts!
Free dance lesson during the first 30 minutes
$5 Cover
This band will be transforming Waverly Brewing Company into a Honky-Tonk with your help. Bring your dancing shoes. Join band on the dance floor, grab a pint or two, and let's pack the place with a big two-stepping party!
A preview and info about what a night out at the Baltimore Honky Tonk at Waverly Brewing Company is like.
Event Contact
Alex Lacquement
Event Details
Thursday, January 16, 2020, 7:00 PM – 10:00 PM
Location
Add Event To Your Calendar