Bard to the Bone: Henry V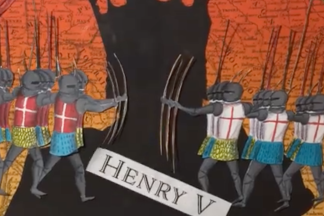 Bard to the Bone, BSF's Shakespeare Appreciation Society, meets every odd-numbered month for a lively conversation about a specific aspect of Elizabethan/Jacobean theatre.
Enjoy snacks, drinks, and conversation with fellow Shakespeare buffs, and enrich your understanding of the Bard's work and its relevance to our modern world.
This event is FREE and begins at 7pm.
January's Topic is Henry V: Rabbit or Duck?
The Hundred Years' War. The Battle of Agincourt. The famous St. Crispin's Day speech. While many regard Henry V as England's greatest king, others dismiss him as a warmonger. Enjoy a sneak peak of rehearsals for BSF's production of Henry V, and unpack the manner in which Shakespeare presents this warrior king in the text of the celebrated play.
RSVPs are appreciated, but not required.
(Still from BSF's 2020 Season Announcement by Sebastian Sears;
https://www.facebook.com/sebastian.sears)
Event Contact
Ann Turiano
410-662-9455
Event Details
Thursday, January 16, 2020, 7:00 PM – 9:00 PM
410-662-9455
Free Admission
Location
Add Event To Your Calendar