Mariah Bonner sings Songs for Lovers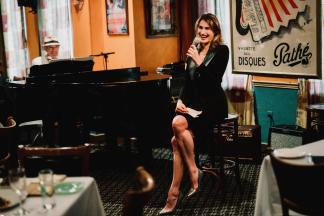 Join Mariah Bonner for her Cabaret show: Songs For Lovers (And Friends!), a collection of tunes to keep you and your loved ones warm all winter long!
She'll interpret songs by timeless composers such as Gilbert Bécaud, Kander and Ebb, Lorenz Hart, as well as classic holiday favorites like Blue Christmas and Have Yourself A Merry Little Christmas...Marcus Dagan will accompany her on keys. Come prepared for a fabulous evening of entertainment, with excellent acoustics, fine Italian cuisine and great service!
Mariah Bonner is a Baltimore born actress and singer. From roles in television shows like Rules of Engagement, CSI and Scorpion, to the silver screen in Oscar winning film The Social Network and Universal Soldier: Day Of Reckoning alongside Jean Claude Van Damme, Mariah now takes the stage at Germano's Cabaret Room.
Germano's Cabaret Room
300 South High Street (at Fawn)
Baltimore, 21202
[email protected] 6pm
[email protected] 7.30pm
Tickets - $15
To purchase: https://www.instantseats.com/index.cfm?fuseaction=buy.event&eventID=5C14...
Enjoy a clip from my last Cabaret show, Expressions of Love, at Germano's in September 2019.
Event Contact
Mariah Bonner
323 633 0119
Event Details
Thursday, December 12, 2019, 6:00 PM – 9:00 PM
410 752 4515
Location
Add Event To Your Calendar
What Others Are Saying
"No need to go to New York for an evening of sophisticated Cabaret. Ever since Mariah Bonner returned to Baltimore, she has brought excitement and entertainment with her witty and smooth repertoire. The great American songbook is her base. From there you never know where she will take you. Be assured...it will be a very pleasant ride!" Beth K.
"We really enjoyed hearing Mariah. Wonderful music selection and very expressive!" Kathy E.
"Mariah performs with charm, wit and exuberance. She brings a taste of New York and Paris to Charm City!" Chris P.