Baltimore Magazines Meet the... Mixologists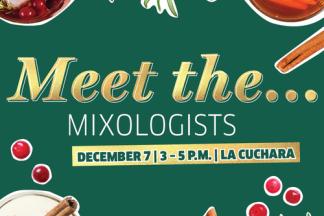 Join us for a hands-on workshop taught by some of Baltimore's best mixologists. They'll share tips and tricks to impressing your family and friends as you host your holiday gatherings. Sip on hand-crafted cocktails and taste offerings from La Cuchara's ever-changing menu.
Gear up for an exciting afternoon of pre-holiday fun!
Event Contact
Allison Winer
Event Details
Saturday, December 7, 2019, 3:00 PM – 5:00 PM
Location
Add Event To Your Calendar