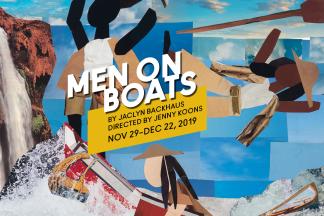 MEN ON BOATS
By Jaclyn Backhaus
Directed by Jenny Koons
November 29th-December 22nd
(Previews November 29th-December 4th)
Pearlstone Theater
Baltimore Center Stage
EXPLORERS WANTED, MEN NEED NOT APPLY
This rollicking comedy is history as you've never seen it before — without a single man in sight. Join a team of explorers as they tell the true(ish) story of the "discovery" of the Grand Canyon and upend everything...including their boats.
CONTENT ADVISORY: Baltimore Center Stage recognizes each family's need to make informed decisions about what show is appropriate for their young people. We do not presume that every show is well-suited for every young person, and it is in that spirit we share the following content considerations. This play contains profanity, and consumption of alcoholic beverages.
Event Contact
Kelly Broderick
410-332-0033
Event Details
Saturday, November 30, 2019, 8:00 PM – 9:30 PM
Sunday, December 1, 2019, 2:00 PM – 3:30 PM
Tuesday, December 3, 2019, 7:30 PM – 9:00 PM
Wednesday, December 4, 2019, 7:30 PM – 9:00 PM
410-332-0033
1
Half price:
$19.50 & $24.50
Offer good
11/30/19

to

12/04/19
Redemption Instructions
Promo Code: GBCA50 - 50% off Premium and A seats for Preview performances of Men on Boats. Limit of 6 tickets per order. Discount can not be combined with other offers or discounts.
Location
Add Event To Your Calendar