RADIO GOLF at Everyman Theatre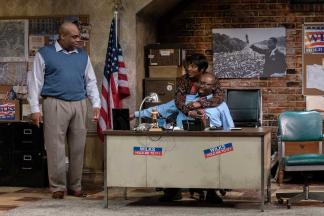 ABOUT RADIO GOLF
It's never the wrong time to do the right thing.
Successful real estate developer Harmond Wilks is on a mission to become Pittsburgh's first black mayor by doing whatever it takes to transform his childhood neighborhood from blighted to bustling. But when he learns the truth about his family's legacy, he is forced to decide whether he will finish what he started or fight to preserve his community's history.
This fast-paced, crackling conclusion to August Wilson's unparalleled 10-play The American Century Cycle examining the African-American experience in the 20th century is "surprising, suspenseful and crowd-pleasing" (The New York Times), and draws striking parallels to the issues we still face today.
Inside Look: August Wilson's "Radio Golf" with Director Carl Cofield RADIO GOLF by August Wilson at Everyman Theatre Directed by Carl Cofield CAST Charles Dumas as Elder Joseph Barlow Anton Floyd as Sterling Johnson Jamil A.C. Mangan as Harmond Wilks Jason B. McIntosh as Roosevelt Hicks Dawn Ursula as Mame Wilks ARTISTIC & CREATIVE TEAM Carl Cofield : Director Christopher and Justin Swader: Set Design Harold F. Burgess II: Lighting Design David Burdick: Costume Design Kathy Ruvuna: Sound Design Lewis Shaw: Fights/Intimacy Video by Chris Giese.
Event Contact
Kyla Tacopina
410-752-2208
Event Details
Repeats daily -- until Thursday November 14, 2019.
Repeats daily -- until Saturday November 16, 2019.
Sunday, November 17, 2019, 2:00 PM – 4:30 PM
Sunday, November 17, 2019, 7:00 PM – 9:30 PM
410-752-2208
1
Offer good
11/12/19

to

11/17/19
Redemption Instructions
Use code CULTUREFLY19 at checkout to receive the discount. Limit 4 tickets per purchase.
Location
Add Event To Your Calendar
What Others Are Saying
"Relevant today! Reminded me of what's been going on in Baltimore (my home) over the decades. While gentrification has been in process, the perspective has changed over time, just as it has for the mayoral candidate in RADIO GOLF. Loved his deep baritone voice, by the way!" "This was another outstanding production at Everyman. Thank you for continuing to bring such quality theatre to Baltimore." "Wow. What a performance. So powerful. Superbly acted. It'll stay with me for quite some time!"