Duo Mania: BSO Musicians Ben Hausmann and Katherine Needleman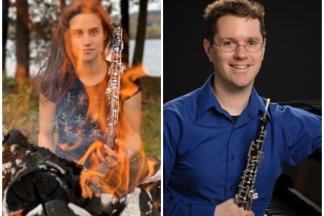 The inaugural performance of our Classical Music Series featuring BSO musicians!
Coffee and breakfast treats will be served at 9 a.m.
Katherine Needleman, oboe and piano
Ben Hausmann, oboe, piano and English horn
Duo Mania has existed since 2000, when Ben Hausmann and Katherine Needleman met as students at the Juilliard School. Their goal is to offer interesting, thought-provoking, and entertaining programs of music, sprinkled with commentary and poetry. Think of them like TwoSet, but with more music, all combinations of oboes and pianos, and much, much nerdier.
Program:
Camille Saint-Saëns: Oboe Sonata, Op. 166 (1921)
Richard Strauss: (Violin) Sonata in E-Flat Major, Op. 18 (1888)
Ruth Gipps: Sea-Shore Suite, Op. 3b (1939)
Rebecca Clarke: I'll Bid My Heart Be Still (1944)
W.A. Mozart: Sonata in B-Flat Major for Piano and (Violin), K. 454 (1784)
Robert Schumann: Abendlied, Op. 85 No. 12 from Klavierstücke für kleine und große Kinder (1849)
Admission: $20 in advance/$23 at door/$10 full-time students with ID
Seniors: $15 in advance/$18 a door
Event Contact
Event Details
Saturday, November 9, 2019, 10:00 AM – 12:00 PM
Location
Add Event To Your Calendar