Open Discussion on Diversity, Equity, & Inclusion at Baltimore Shakespeare Factory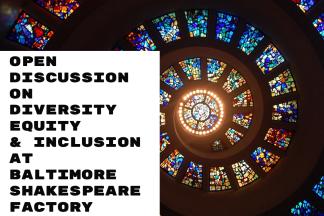 Baltimore Shakespeare Factory's goal is to represent Baltimore's diversity on our stage, our staff, our board of directors, and in our audience.
This event--our second annual--aims to provide an open forum for community members to share their thoughts and feelings on the topic. We will share the outcomes of last year's focus group as well as plans for moving forward, with the primary portion of the evening spent hearing directly from you, our community.
While we welcome all voices, we especially encourage attendance by those who are traditionally underrepresented in the worlds of theatre, Shakespeare, and the arts.
All attendees will receive two tickets for our 2020 season.
Pre-registration is optional; your RSVP will help us plan.
Event Contact
Ann Turiano
410-662-9455
Event Details
Monday, November 18, 2019, 7:00 PM – 8:30 PM
410-662-9455
Free Admission
Location
Add Event To Your Calendar