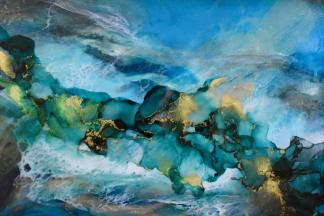 A biennial juried exhibit featuring work by 40 Howard County artists. Robin Holliday, owner and curator of HorseSpirit Arts Gallery in Savage, is the guest juror for Art Howard County 2019. The exhibit includes works in a range of media, including drawing, painting, photography, fiber art, sculpture, and more.
Artists selected for Art Howard County 2019 are James Adkins, Karl Avellar, Geoffrey Baker, Chelsea Bork, Karen Cain, S. Mark Cates, Ed Charest, Maria Charest, Mary Cossentino, Robert Dansky, Sandra Dietzel, Patrick Dillon, Diane Dunn, Sharon Fuller, Paul Gangemi, Caroline Serafinas Garzon, Christina Guercio, Douglas Hanewinckel, Daniel Heifetz, Damon Hurbon, Patricia Lang, Freda Lee-McCann, D. Jean Lloyd, James Lubitz, Duane Lutsko, Kevina Maher, Annika Marthinuss, Lynda Mitic, Marcia Palmer, April Rimpo, Joyce J. Ritter, Brendan Robinson, Lisa Scarbath, Elizabeth Sumner, Vickie Thurston, Varada Vaidya, Barbara VanRossum, JoAnn Weiss, Karen Winston-Levin, and Rebecca Zeligman.
Exhibit runs November 1 - December 13, with a free reception on Friday, November 8 from 6-8pm. The reception will include the presentation of juror awards. Gallery hours: Mon-Fri 10am-8pm, Sat 10am-4pm, Sun 12-4pm. Closed November 28 & 29.
Event Contact
Elli Hernandez
410-313-2787
Event Details
Repeats weekly Monday and Tuesday and Wednesday and Thursday and Friday -- until Friday December 13, 2019 -- except Thursday November 28, 2019, Friday November 29, 2019.
Repeats weekly Saturday -- until Saturday December 7, 2019.
Repeats weekly Sunday -- until Sunday December 8, 2019.
Free Admission
Location
Add Event To Your Calendar