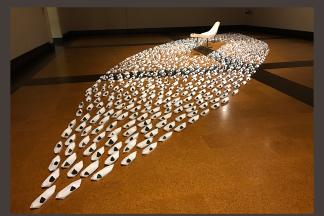 The Julio Fine Arts Gallery Presents:
Foon Sham: Sea of Hope
October 17 – November 21
Reception: Thursday, October 24, 6-8pm in the Gallery
Artist Lecture: Tuesday, November 19, 2019 7pm in McManus Theater
The Julio Fine Arts Gallery is proud to present Foon Sham: Sea of Hope from October 17 – November 21, 2019. As an homage to a lost loved one, this immersive installation presents an opportunity for memory and contemplation of loss, but also a sense of hope and interconnectedness. Sea of Hope is a work that invites our thoughts, our prayers, our hurt, our anger, and our hope—and it grows and changes through the participation of more and more viewers. Born out of one artist's pain, with every paper boat that is added the work becomes much larger than itself. Presented alongside sketches and a video piece documenting a ritual burning of one iteration of the sculptural vessel, this exhibition presents a comprehensive picture of Sham's artistic process, as well as his personal emotional journey towards healing and hope after a devastating loss. In the artist's words:
"Sea of Hope is an installation I first made in Australia for my mother who died of cancer in 2002. I made the long wooden vessel with 101 blocks of wood as my symbolic response to the hundreds of prayers she made for me. The long vessel is a metaphor for her journey, going somewhere peaceful and quiet. Other people who want to share my feeling of loss can write their messages in black on the white paper boats that I have provided. My sister was the first one who joined in making the paper boats and tea leaves. All my siblings learned how to fold these paper boats since we were little. I used tea leaves as symbols for a cure, as tea leaves contain antioxidants that are supposed to prevent cancer, and a cone form to resemble candle flames.
With over a thousand paper boats collected in exhibitions in Hong Kong, Macau, Australia and more recently in the US, this "Sea of Hope" will continue to grow and interact with people who are willing to share their pains of losing someone to cancer. I like the fact that so many people have participated and are willing to be part of this art piece. The pattern it has created is quite beautiful.
This exhibition of Sea of Hope is the second in the United States."
Foon Sham, 2019
Event Contact
Megan Rook-Koepsel
410-617-2799
Event Details
Tuesday, November 19, 2019, 11:00 AM – 7:00 PM
Repeats weekly Tuesday and Thursday -- until Thursday November 21, 2019.
Saturday, November 16, 2019, 1:00 PM – 4:00 PM
Repeats weekly Sunday and Saturday -- until Sunday November 17, 2019.
Friday, November 15, 2019, 11:00 AM – 5:00 PM
Repeats weekly Monday and Wednesday and Friday -- until Wednesday November 20, 2019.
Free Admission
Location
Add Event To Your Calendar