Adorned: African Women & the Art of Identity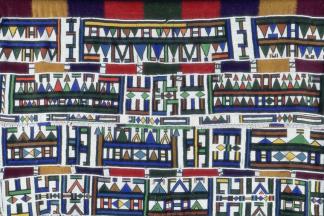 Across sub-Saharan Africa, a strict gendered division of artistic labor existed throughout much of the 19th and 20th centuries. Men worked in wood and metal, carving and casting works that glorified leaders and paid homage to deities, while women created works in clay, cloth, and beads, stitching and firing the art of everyday life. This exhibition brings together two dozen works from the BMA's collection to demonstrate the critical role of women in shaping and maintaining social identities across 20th-century Africa.
Highlights include colorful beaded aprons and capes from Ndebele artists in South Africa, jewelry made by Turkana and Maasai women in Kenya and Tanzania, and a large indigo-dyed textile created in post-independence Nigeria. The exhibition also features a selection of gourds decorated by Sara-Nar women from Chad. These vibrant and intricate works served as visual signifiers of age, marital status, ethnic identity, economic achievement, and national identity.
Event Contact
Anne Brown
4430573-1870
Event Details
Wednesday, February 19, 2020, 10:00 AM – 5:00 PM
Repeats weekly Sunday and Wednesday and Thursday and Friday and Saturday -- until Friday June 19, 2020 -- except Wednesday December 25, 2019, Wednesday January 1, 2020.
Free Admission
Location
Add Event To Your Calendar