MOON OVER BUFFALO - Spotlighters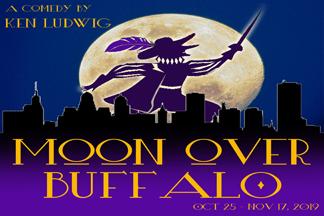 Moon Over Buffalo
by Ken Ludwig
Directed by Brandon Richards, with Assistant Director Paul Saar
Oct 25, 2019 - Nov 17, 2019
​Fri & Sat at 8pm; Sun at 2pm
With a plethora of pratfalls, slamming doors aplenty, and backstage shenanigans, Ken Ludwig's Moon Over Buffalo is a fast-paced, hilarious screwball comedy in the old tradition, a throwback farce, a valentine to the stage, and the larger-than-life personalities that inhabit the world of the theatre.
It is the summer of 1953, and George and Charlotte Hay, formerly a couple of Broadway stars, have taken their run-down touring company to Buffalo, New York. In Buffalo they have the intention of running Cyrano de Bergerac and Private Lives in repertory, all the while grumbling about missed Hollywood opportunities. But on-stage harmony is compromised when George performs an off-stage infidelity, impregnating the company's ingenue. When Charlotte learns of this, she prepares to run away with the family lawyer, sending lightweight George on a grief-stricken drinking binge.
It turns out that Frank Capra is headed to town on a talent scouting mission looking to hire the couple for his swashbuckling Scarlet Pimpernel epic. As a result, the Hay family -- including scornful, deaf mother in law Ethel, determinedly practical daughter Rosalind, and dashing actor Paul, Rosalind's ex-boyfriend -- must work overtime to get sloppy drunk George into his Cyrano hat and nose…. or is it his Elyot Chase smoking jacket? With the entrance of Rosalind's fiance, anxious TV weatherman Howard -- one man with two mistaken identities -- and Richard Maynard, the wealthy lawyer hoping to lure Charlotte away to his mansion -- the confusion only intensifies.
Event Contact
Fuzz - James Roark
4107521225
Event Details
Repeats weekly Friday and Saturday -- until Sunday November 17, 2019.
4107521225
1
Offer good
10/10/19

to

11/17/19
Redemption Instructions
Limited to 4 tickets per order and 16 tickets per performance
Tickets must be ordered online and in advance
Use Discount Code: Theatre
Order online at https://www.spotlighters.org/buffalo
Discount Tickets are $15 - which includes a $3 processing fee
Location
Add Event To Your Calendar