The Camouflage: Artist's Talk with Sunhee Kim Jung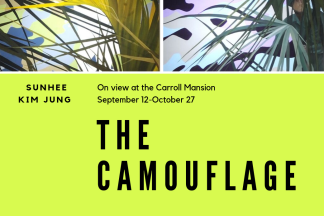 Hear from artist Sunhee Kim Jung as she discusses her latest project, works in "The Camouflage" exhibition, currently on display at Carroll Mansion. Her large-scale paintings honor the men and women who put their lives in danger serving in the U.S. Military.
Artist Sunhee Kim Jung is a Korean-born American Artist, known as a painter of lush landscapes that express provocative ideas, beliefs, and feelings about life and death, loss and rebirth. Jung has been selected by the US Department of State's Art in Embassy Program three times. Four of her paintings will be shown at the American Embassy in Rangoon, Burma in 2016-2018. She has taken part in a four person exhibition at Artbox Gallery in Zurich, Switzerland in October 2018.
Learn more at https://www.thepealecenter.org/events/camouflage/
Event Contact
Event Details
Saturday, October 12, 2019, 2:00 PM – 4:00 PM
Free Admission
Location
Add Event To Your Calendar