Organist Mickey Thomas Terry in Concert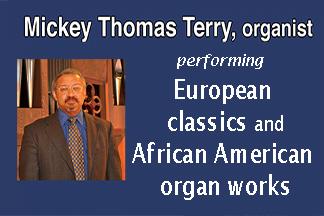 Renowned African American organist Mickey Thomas Terry will play a program of European organ classics as well as works by African American composers. A reception will follow.
Mr. Terry has been widely praised for his "extraordinary skill" (The Washington Post), his impeccable musicianship, and the "passion and poetry" of his playing, Mr. Terry will play this entire concert from memory. In addition, this concert will be video-streamed onto a Big Screen in the front of the church, so audience members will be able to watch him play.
Well known as an expert in African American organ music, Mr. Terry has published 8 volumes of his critically acclaimed African American Organ Music Anthology. He has been a featured artist at the Kennedy Center for Performing Arts, in addition to his numerous recital performances throughout the United States. Director of Music at St. Joseph's on Capitol Hill in Washington, Mr. Terry is a faculty member in Howard University's Department of Music. He has also taught at Georgetown University.
Free parking and shuttle service will be available. Students get free admission.
Event Contact
Shirley Parry
4105231542
Event Details
Sunday, October 27, 2019, 3:00 PM – 4:15 PM
410-523-1542
1
Offer good
10/21/19

to

10/27/19
Redemption Instructions
Bring copy of half-price offer to ticket sales desk on the day of the concert.
Location
Add Event To Your Calendar