An Evening With The Mark Kraemer Quartet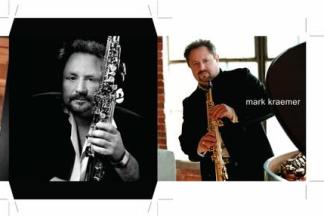 Jazz saxophonist, recording artist, and composer, Mark Kraemer brings an exhilarating sense of passion and intensity to live performances. His sound is rich in texture and blends traditional Be-Bop, and modern Jazz with Latin and R&B influences. Mark's commitment is inspiring and must be experienced. He plays alto, soprano tenor saxophones, piano and wind controller. Mark comes from a musical family. His aunt taught him piano at age 6. His father, was a multi-instrumentalist, taught him clarinet at age 7, At age 8, he performed his first jazz piece with an upright bass, piano and drummer. Mark attended the Peabody Institute studying clarinet.
Mark's brother, the late great Neal Kramer, was a masterful guitarist; Mark's cousin Jeffrey Steinberg is a prolific composer, arranger symphony conductor and Grammy award winner. At age 12, Mark picked up the alto saxophone and started his own group. At 15, he joined a popular show band 4-piece horn section with 5 vocalists. He then played various R&B and rock bands, until moving to Los Angles. While in L.A., he studied with saxophonist studio musician Terry Harrington who played baritone on the Bart Simpson show. He then studied theory and improvisation with vibraphonist and recording artist Charlie Shoemake.
After returning to Baltimore, he studied with legendary saxophonist and recording artist and Grammy Award winner Gary Bartz. Mark launched his career performing with various groups at venues and events in the Baltimore-Washington areas, New York city, Baton Rouge and New Orleans.
Having recognized his potential, producer Jacques Burvick, who has produced and arranged for international recording artists, such as Lonnie Liston Smith, Norman Connors, Marion Meadows, Jon Lucien, the late Grover Washington, Jr., and a host of others, recorded Mark on the soon to be released CD. Mark's CD is a collection of Jazz compositions that bring a fresh approach to this genre of music. The tracks were mixed by 4-time Grammy nominated engineer David Rideau, who has mixed gold and platinum projects for artists such as Janet Jackson, Sting, Tom Scott, Al Jarraeu, and others.
Notable Performances:
River Center Theatre of Performing Arts, Gospel Play "Preaching to the Pastors. Famous lead actor "Leon" (Temptations File - 5 Heartbeats). Video with G. C. Cameron: "It's a Shame" (The Spinners). Video with G.C. & Vince Hutcherson at Club Elite in Baton Rouge.Artscape - Kenny Wright Group. Also opened for Kim Waters and Walter Beasley with Kenny Wright. Baltimore-Washington Jazz Festival as a leader (repeat performer). Blues Alley with Norman Conners and Jean Carne. Bohemian Caverns as a leader. Sweet Lorraine (New Orleans) with Normal Conners. NYC Brooklyn Exposure - leader with Ron Jenkins (bass); George Gray (drums). Gulf Coast Coliseum with Curtis Cobelo, Biloxi, MsAlys Stephens Robinson Performing Arts Center, Birmingham, Al., with Johnny Angel and the Swinging Demons. Fifth Regiment Armory, Baltimore, Md., with the Spindles, opened for the Whispers, Intruders, & Dennis Edwards. Rams Head Tavern, Annapolis, Md., with John Tegler and friends.
"Playing saxophone is an extension of my soul, playing jazz is a way of life."
Event Contact
Cyd Wolf
4107524515
Event Details
Saturday, December 28, 2019, 6:00 PM – 9:15 PM
4107524515
Location
Add Event To Your Calendar